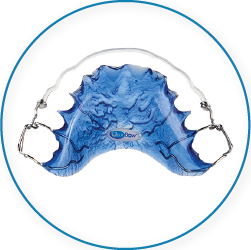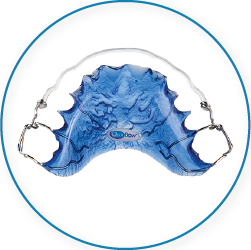 Clear Bow
All of the aesthetic qualities of an invisible retainer with the durability, functionality and benefits of a Hawley Retainer.
Unlike other clear type retainers, the Clear Bow covers little or no biting surfaces which allows the teeth to settle into occlusion, which will also permit even distribution of biting surfaces.
Clear bow has unparalleled durability. In the past, you might have seen other Hawleys with a clear strap across the incisors. Clear Bow is not like them and has been tested on over 5,000 appliances over 4 years with no breakages reported. It is guaranteed not to break when used under normal conditions specified by the doctor. Combined with our 100% guarantee with Duraloy clasps, you have a retainer that will withstand the test of time.
It not only resists breakage but it also resists stains. Clear Bow will not be stained by coffee, cola, or red wine.
The BPA-free plastic strap features a patented design and is fabricated from food-grade materials made in the USA and manufactured in Canada. It is three prong adjustable and comes in a 2.75 mm strip and now a 1.4 mm strip that offers full labial contact when adapted properly. It is made from a polyethylene terephthalate, similar to the material used for the bleaching trays and overlay retainers.
Check out www.clearbow.com for more information, videos and pictures.