About Bryn Mawr Orthodontic Laboratories (BMOL)
Established in 1980, Bryn Mawr Orthodontic Lab is located in the heart of the Main Line suburbs, just a few miles outside of Philadelphia. Much has changed since we first opened our doors and began making orthodontic appliances. Long gone are the days when retainers were only made in two colors (clear and pink), and when we still made bands for braces in-house. But some things have not changed. Our commitment to quality and customer service allows us to continue to establish and maintain mutually beneficial relationships with our clients. And we've stayed on top of the industry, investing in the newest and best technologies before our regional competitors. We're proud of the business we've built, and always look forward to finding new ways to offer better service to our customers.
Eric Windle
Before assuming co-ownership of BMOL in 2005, Eric worked for the previous owner for more than 20 years. A graduate of Marple Newtown High School, Eric has lived in the Newtown Square area for much of his life and currently resides there with his family. A father of five, Eric is very active in community sports and activities. In his little free time, he can be found casting lines in lakes, ponds, streams, and really any puddle that may or may not contain a fish.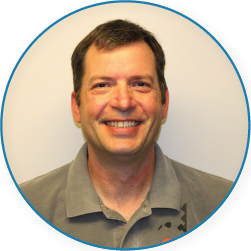 Chris Gajewski
Among Chris' earliest memories are playing with plaster and waxes in his uncle's orthodontic lab. Growing up, he worked at various labs up and down the east coast while working his way through college at the University of Miami. In 2001, he settled in the Philadelphia area and now resides in Chadds Ford with his wife and daughter, a pair of artists. In 2005, he became co-owner of Bryn Mawr Orthodontic lab. When he's not surrounded by plaster and plastics in the lab, or by the chaos of jewelry-making and photography at home, Chris unwinds by attempting to put a tiny ball in a far, far away hole at the local golf courses.