Digital Services
We are fully integrated into the new technologies. We can receive your prescriptions & scans digitally, manipulate them and print 3D models to fabricate your appliances.
Though we can receive scans from any scanner that can export an STL file, we are certified for iTero, Trios and 3M which means we can receive scans directly from the intraoral scanners. EasyRx simplifies it even more with personalized prescriptions at a click of the mouse!
Digital Services is so much more than just receiving prescriptions & scans, printing and creating digital or 3D printed models. Please see below for some more exciting applications of this new technology that we offer.
Digital Prescriptions: We are EasyRx powered! Whether you are attaching scans or still want to send in stone or plaster models, prescriptions are now as easy to fill out as clicking a mouse button. We can even design practice specific templates just for you.
Digital Debonding: A scan from your patient's last braces check will mean they can have their retainers at the debonding appointment. With a scan and our software, it is much more precise than the old way with alginate impressions and plaster casts. We can even make minor adjustments to the teeth.
Hassle Free Retainer Replacement Program: if your patient's retainers are lost, broken or wears out, they just need to call you instead of coming in for an appointment and we can have a replacement to you within one week that will fit the exact same as the original—we can even mail invisible retainers directly to the patient if you wish.
Crystalign Work Flow: working from digital models, we can adjust teeth (incisors only) to create ideal spring aligners or a short series of trays to treat relapse and minor corrections. Reports will include exactly how much the teeth were moved and how much IPR needs to be done.
Digital Study Model Service: We have cleared out our clients' valuable storage space of their old plaster models and make new DSM's available for storage, display and treatment planning. Over 60,000 sets can now fit in the palm of your hand.
You can be assured that as new applications of this technology becomes available, BMOL will be at the forefront of the industry.
Digital Services Price Schedule
Digital Study Models
| | |
| --- | --- |
| Rough Finish: | $20/Set |
| Standard Finish: | $25 |
| Full Finish: | $30 |
| Clean and Base Your Scans: | $15 |
| Upgrading: | $10 |
| Bulk Rate Discount to Covert: | $9 |
| Basic Report in PDF: | Free |
| Advanced Report in PDF: | $20 |
Model Printing
| | |
| --- | --- |
| Models to make our appliance: | |
| Horseshoe: | $18/arch |
| Based: | $18/arch |
| Models without appliances: | |
| Horseshoe: | $40/set |
| Low profile based: | $60/set |
| Full based: | $80/set |
Other Services
| | |
| --- | --- |
| Clean up of scan (up to 5 min): | $5/arch |
| Digital Debonding | $10/arch |
| Tooth Manipulation (digital set up): | $20/arch |
Turnaround Time
| | |
| --- | --- |
| Digital Study Models: | 1 week |
| Printed models to fabricate our appliances: | No extra time |
| Printing models for you: | 1 week |
| Digital debonding: | Add 2 days to our normal |
| Crystalign Services: | 2 weeks |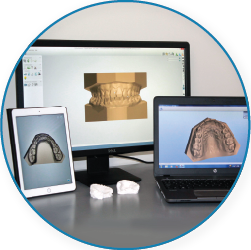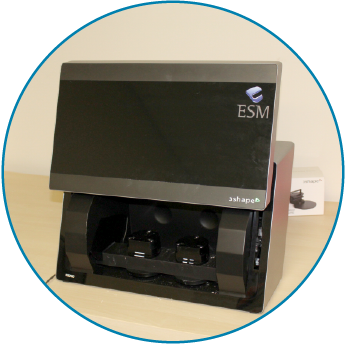 The Process