Comfort H/S Bite Splint
Now available in two new thicknesses, 1mm and 1.3mm.
Initial reports are in: patients love them as a super comfortable alternative to the 1mm hard daily wear clear retainers!
What impresses me about these nightguards is the ease of the delivery appointment. Most often, it takes two minutes. Give the patient the guard, make sure they can take it in and out… that's it! Almost always a perfect fit and occlusion.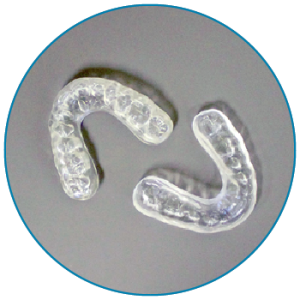 Introducing a new standard…
…The Comfort H/S Bite Splint
The latest in bite splints has come to the Main Line. Bryn Mawr Orthodontic Lab has partnered with Glidewell Direct to become an authorized lab for the company's Comfort H/S Bite Splint, the most widely-prescribed bite splint in America.
Bryn Mawr Orthodontic Lab is now one of only two authorized labs in the Delaware Valley, meaning only we guarantee the use of genuine Erkodent materials and equipment for fabrication of this industry-leading bite splint.
The Comfort H/S Bite Splint is comfortable, durable, and crystal clear, and we invite you to see the difference today.
The difference is clear
For decades, hard acrylic night guards and thermoplastic hard/soft guards have been the industry-standard appliances for bruxism patients. Doctors are no strangers to complaints about the discomfort these products cause, in addition to their fragility, unsightliness, and expense. California's Glidewell Laboratories has truly made these issues a thing of the past with its Comfort H/S Bite Splint:
Improvement through technology: Traditional guards are formed by pouring acrylic over a thin, molded inner layer, creating a bulky, uncomfortable guard. The Comfort H/S Bite Splint is fabricated using a single sheet of material, the German-engineered Erkoloc-pro, to create a 1mm, soft polyurethane inner layer. This thin layer rests gently against the teeth and gums while a 1-4mm hard, durable co-polyester outer layer provides protection.
Precise fit: Splints are thermoformed over a stone model using the Erkoform-3d, a state-of-the-art thermoforming unit that is specially calibrated to produce the ideal temperature and pressure for each splint. An Occluform-3 imprinting attachment enables the splint to be made with a flat occlusal plane or with an opposing bite.
Low cost: The Comfort H/S Bite Splint is far less expensive than competing appliances, while also being more durable.
Safe and hypoallergenic: The bite splint is ISO approved for dental use and BPA free, making it ideal for patients who are allergic to acrylics or metals.
Call to order
Bryn Mawr Orthodontic Lab is currently accepting all requests for Comfort H/S Bite Splints. For more information or to place an order, call our labs at 610-527-6525.